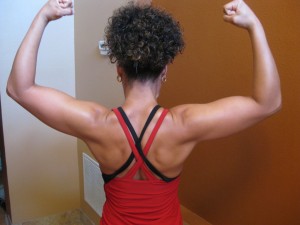 All too often in our fitness endeavors we set our sights on building strength in our lower body, idolizing exercises like squats and deadlifts over all others.  While men seem to give adequate (if not disproportionately more) attention to upper body strength, it just doesn't seem to be the case when it comes to women.  Building lower body strength is a great goal for everyone and one that should be apart of every program, however, for the ladies, we need to bring some balance to our pursuit of fitness and see the value in developing strength in our upper body as well as our lower body.
Sufficient upper body strength improves every day movements like reaching, pulling, pushing and carrying.  Lower body exercises like the deadlift will certainly assist with being able to pick things up from the floor like a child or suitcase. But, how empowering would it be if you could not only lift that suitcase off the floor, but then also be able to stow it in the overhead storage without assistance?
Developing upper body strength has a ripple effect which can enhance all your lifts, improving posture, stability, alignment and strength.  From a physique point-of-view, women who are pear shaped can bring more balance to their appearance by building out their upper body, giving the illusion of a smaller waste.  Hourglass figure…I'll take it!
In this first challenge of 2015, we are showing our upper body some well-deserved attention!  Each week we hope to introduce you to a new move  that will challenge  your normal way of doing things and move you just a bit beyond your comfort zone.  Typically do military or front presses?  Get ready to be introduced to the landmine press and more!
Each week will also feature a complete upper body workout that will stimulate muscle growth and have your muscle fibers twitching!  Each workout will use only one type of equipment (i.e. medicine ball, kettlebell, etc.) or just your body for resistance.  If you don't have the equipment prescribed, sub with another implement or repeat a challenge from a different week.
If you have your eye on being able to do your first unassisted pull up, we have dedicated a day to helping you get there.  Practice these moves each week and beyond, working them into your normal workout regimen once the challenge is over.  If push ups have your attention, we've got you covered there as well!
As with all EM2WL challenges, take time to relax and recover.  Treat yourself like the queen that you are and relish the self care!  Likewise, we have included important nutrition tidbits that are great reminders to keep your eating on track.
Check in with us!  We would love to see you working hard and hear how this challenge is impacting you!  Happy lifting!