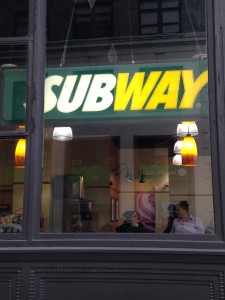 My Saturdays start with my 8 year old daughter and I heading down to the garage to our home gym.  While I train, she constructs some sort of obstacle course out of whatever she can find.  As far as she is concerned, the wackier, the more awesome it is and I mean anything goes – box, bucket, umbrella, shovel, etc.  If she can lift it, it's fair game!
Once finished, the family is out of the house until early evening.  As you can imagine finding healthy convenience food when you're on-the go can be a challenge. But, thanks to Subway, finding eats that fit your lifestyle just got easier! Last week I had the opportunity to sit down with other FitFluential ambassadors and Subway's corporate dietitian, Lanette Kovachi who oversees the nutritional information of menu items, to discuss exciting changes happening to Subway's menu.
One such change is Subway's new and improved grilled chicken. I actually had never eaten a grilled chicken sandwich at Subway, so I was quite excited to try it out. Since it was my first time, I thought I would go all in and have the Monterey Chicken Melt. Sounds pretty indulgent right? Well, I was pretty surprised to learn that my splurge had less than 400 calories AND packed in 29g of protein. Boo-yah!! Being the HANGRY girl that I am, I doubled the meat for even more yumminess. Yeah baby!
Subway sandwiches are made to order, so I opted for the 9 grain wheat bun which is made with more than 50% of whole grains and has 4g of fiber for a 6-inch serving. Then I added cucumber, red onions, tomato and avocado. Delicious! The grilled chicken can be served on a bun, like mine, on flatbread or on top of a salad. Here are some reasons Subway's grilled chicken sandwiches and salads are a great option:
No artificial preservatives or flavors
All white meat, high protein
Lightly seasoned and tastes great, not bland
Sodium is down 30% over all for all sandwiches, and the Monterey Chicken Melt has less than 600 mg
Indulgent tasting, but won't wreck your nutrition
With over 40,000 locations, you can always find a Subway in a pinch!
For the most part, I prepare and carry my own food with me, but that does not always work out, especially when you are more often on your kids's schedule rather than your own! And finding protein is always a concern when on the run.
My girls have been subway fans for a couple of years and now mommy is one, too. Not only is it great tasting, it checks a lot of boxes on my nutrition list.  If you haven't tried the grilled chicken yet, do it!
This post is sponsored by FitFluential.