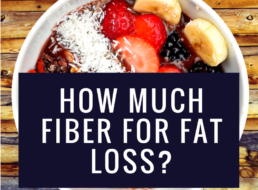 by Kelly - Team EM2WL in Fat Loss / Cutting, Nutrition, Videos

Although more women are paying attention to their macronutrients, fiber is a micronutrient that most people tend to ignore. Fiber is important as it aids in digestion and helps lower glucose and blood cholesterol levels all while keeping you feeling full and satisfied.  Power Eating author Susan Kleiner, even goes so far as to say […]

No Comments. Continue Reading...