Who is Lucia?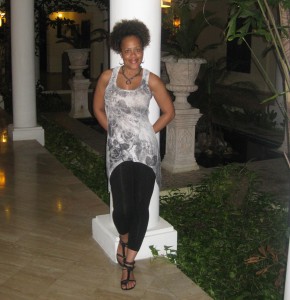 I grew up with my mom and granny in Brooklyn, NY. I had just started my first year of college and my parents decided they were over the hustle and bustle of NYC. Good bye cold and hello year round sunshine! We picked up and moved to Florida in December 1989, where I finished my schooling at the wonderful University of Central Florida.
In sunny Florida my parents gained a bit of weight because you can't walk, but have to drive everywhere here. They were already quite a bit overweight when we moved, and with even less exercise, they begin to suffer from weight related medical issues. Even as a youth, my mind was made up that I would never be overweight and allow food to dictate my world. I worked out religiously and, prior to my 30's, never had to worry about weight.
I went on to have five beautiful children, one of which I lost. My precious son Vincent drowned two months shy of his second birthday in August 1998. That incident changed my life in so many ways, giving me a new appreciation for life, God, and family. It caused me to start looking at things from a new and fresh perspective…I wanted to go back to basics.
Though I worked out faithfully, we really didn't eat the most wholesome and healthy foods. In November of 2002, I ran across an article that had a great impact on me. I literally came home and discarded every product that had loathsome ingredients. Whew, my pantry was almost bare because anything I couldn't pronounce or anything containing that vile substance known as trans fat, had to go!
Now I had a great combination going; healthy eating and exercise. I thought I had it down until I had my last gift from above and was unable to shed the ghastly baby weight. More exercise and less food became my mantra. I had done this time and time again, but it sure didn't work this time. Everything has a season and my season of eating less and exercising more was over!
One day, I was fortunate enough to happen across information that would change my life forever. I learned to eat more, lift heavy, and enjoy foods again, which helped me to be a happier, whole new woman. It sparked a passion to share with the world that a life of deprivation at our own hands need not be. So, my research continued and my certification in Fitness Training soon followed.
This endeavor is my heart…thank you for being a part of the EM2WL family.