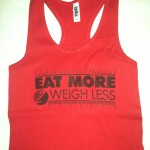 by EM2WL in Fitness Cycles (Periodization)

Q:  I get so overwhelmed thinking about fitness cycles and changing my calories to go with a particular workout mode. It seems like so much work. I don't really know if I am in any particular "mode" anyway. I just workout 6 days a week, and hope to make healthy eating choices and stay within […]

No Comments. Continue Reading...